November 29, 2018 |
Monica Lopez
October is a special time of year in Sonoma County. The mornings are a cool, misty relief from the dry summer and heat. The air from your first steps outside is fragrant with the sweet smell of grapes. This is Harvest.
The 2018 Harvest was considerably later than past years for Aldina Vineyards. Thanks to the consistent growing conditions and cooler temperatures, which allowed the Cabernet Sauvignon grapes to mature slowly, our harvest was full of exceptional quality fruit. Aldina winemaker, Belen Ceja, diligently monitored the vineyard weekly to ensure that the brix levels, flavors and color development were well-established. By mid-October, we had finally reached the levels we were awaiting and hand-picked approximately nine tons of our Cabernet Sauvignon grapes early on the morning of Thursday, October 18th.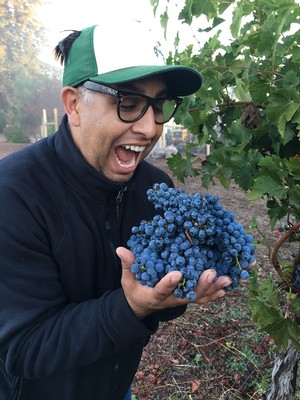 As with every successful harvest, the Aldina Vineyards team was delighted with our fruit; however, this year's harvest was somewhat bittersweet for us. As much as we wanted to celebrate another beautiful and bountiful harvest, there was a void with the loss of the estate and approximately 15% of the vineyard during the 2017 Tubbs Fire.
Given the partial loss of the vineyard in 2017, we anticipated a lower yielding year, with the potential need to source grapes to produce our 2018 vintage. Thanks to Mother Nature's generosity this year, we were pleasantly surprised to not have to do so. This year's harvest felt as if it were a reflection of the love and passion that we have for our vineyard.
Aldina Vineyards remains as strong and committed as ever to the remaining vineyard. As we continue on our winemaking journey, we are dedicated to producing the best quality wine Sonoma County has to offer. We thank you for all the thoughts, prayers, support and love sent to us and everyone here in Sonoma County.
As we look forward to 2019 we are hopeful. As we work towards rebuilding we are inspired. We are excited to once again having a home to share with our friends and family, where we can continue to make new memories full of love, laughter and vino amongst beautiful Aldina Vineyards!
Cheers!