Aldina Vineyards pays homage to our parents, Al and Dina Lopez. Our label represents their life motto, to "always use the best quality materials to create the best quality product." Our parents have instilled family values and hard work throughout our entire lives. Our goal is to reflect those values by creating Sonoma County's premier Cabernet Sauvignon.
Al & Dina's story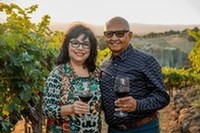 In the fall of 1978, Al and Dina were married and began their life in Austin. After a year, Al decided to head in a different direction in his career. They would make their journey to Northern California, where Al reconnected with a past acquaintance, Sonny Madrid, who owned Lowrider Magazine at the time. Sonny asked Al to join his team, while Dina worked as a full-time cook and baker at Nation's Hamburgers.
Al and Dina's entrepreneurial spirit was in full force as they explored new business ventures together, starting a small monthly magazine for the Hispanic market, UNO Magazine. This led them into a new career path and the pair soon opened a graphic design company, Park Avenue Design. Their hard work and determination was always at the core of everything in which they embarked. In 1988, with publishing and design experience under their belts, Al and Dina decided to purchase Lowrider Magazine, knowing they could turn it into a successful publication. In 1997, they decided to sell the country's number one Automotive magazine to a larger publishing company.
After moving to Sonoma County for a change of pace, Al and Dina had the itch to do something else. In 1999, Al planted a hobby vineyard around their 40 acre estate, focusing on their favorite varietal - Cabernet Sauvignon. Al started by taking an extensive viticulture course at Santa Rosa Junior College to learn how to properly make wine.



"Al himself personally planted the Aldina vineyard. In the early mornings of fall we walk the vineyards to determine the optimal maturity level by tasting the fruit for the tannin structure and flavors. It is easy to see Al's love and his passion for his vineyard." - Belen Ceja, Aldina Winemaker
As the vineyard flourished with fruit, the crop was sold annually to other wine producers in the county, while Al saved a small portion to make his own batch in his barn. This quickly became the family and friend's favorite wine.
Our parents never lost sight of their family life, even while growing successful businesses. We're grateful for their dedication and the core values they've taught us regarding hard work and determination. In 2012, we decided to create our own label with what was once was a hobby vineyard. Al & Dina's dedication to the brand and wine shines with every sip. We hope you enjoy!
- Francisco Lopez and Monica Lopez